Virtual Launch of the 2020 Global Deal Flagship Report: Social Dialogue, Skills and COVID-19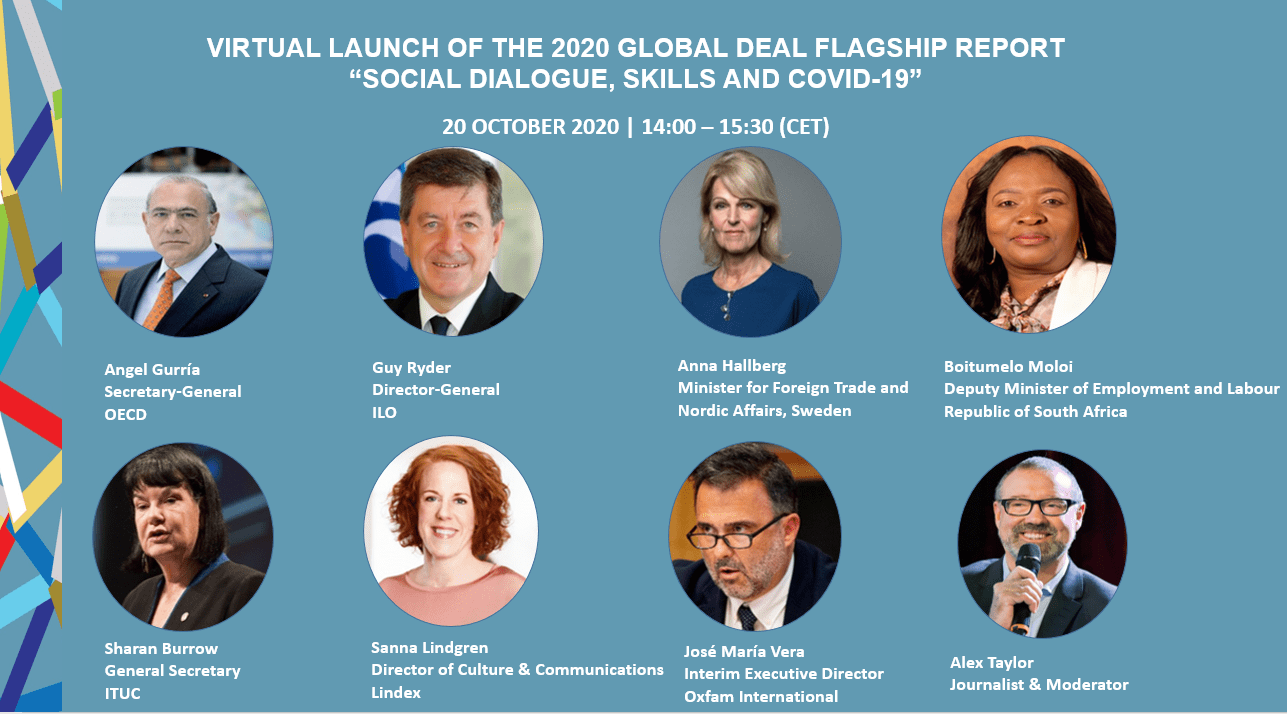 7 October 2020 - Join us for the virtual launch of the 2020 Global Deal Flagship Report 'Social Dialogue, Skills and COVID-19', on Tuesday, 20 October from 14:00 to 15:30 (CET). The event will present the key findings of the report, as well the commitments made by Global Deal partners.
This second Global Deal Flagship Report illustrates the importance of social dialogue in managing the consequences of the coronavirus (COVID-19) pandemic, as well as the benefits of involving social partners in adult-learning systems to prepare for the future of work.
The COVID-19 crisis that erupted so suddenly at the beginning of 2020 has stressed labour markets and employment to a degree never seen before. Both the OECD and the ILO are documenting the steep decline in the number of jobs and the volume of work over the first half of 2020, and predict that the jobs recovery will be uncertain and far from complete.
This report emphasises the role that social dialogue has to play in promoting lifelong learning and skills development, and in addressing the changes and challenges brought about by the COVID-19 crisis. It also shows how Global Deal partners have engaged in efforts to promote and strengthen social dialogue.
The webinar will be interpreted into English, French and Spanish and will take place via Zoom. Advance registration is required via this link. Registrants will receive a confirmation email containing information about joining the meeting. If you do not receive this email, please contact GlobalDeal@oecd.org. You will also be able to view the event via the webcast.
For media enquiries, please contact GlobalDeal@oecd.org.
This online public event is open to all but pre-registration is required. Register Now or Watch the Webcast.
AGENDA

14:00-14:30 Welcome and opening remarks

Angel Gurría, Secretary-General, Organisation for Economic Co-operation and Development (OECD)

Guy Ryder, Director-General, International Labour Organization (ILO)

Anna Hallberg, Minister for Foreign Trade and Nordic Affairs, Sweden

14:30-15:20 Panel discussion on the findings of the Flagship Report

Boitumelo Moloi, Deputy Minister of Employment and Labour, Republic of South Africa

Sharan Burrow, General Secretary, International Trade Union Confederation

Sanna Lindgren, Director of Culture and Communications, Lindex

José María Vera, Interim Executive Director, Oxfam International

15:20-15:30 Closing remarks

Anna Hallberg, Minister for Foreign Trade and Nordic Affairs, Sweden

Guy Ryder, Director-General, ILO

Angel Gurría, Secretary-General, OECD
This event will be moderated by Alex Taylor, freelance journalist and author