Global Deal Webinar Series: Social Dialogue and the Future of Work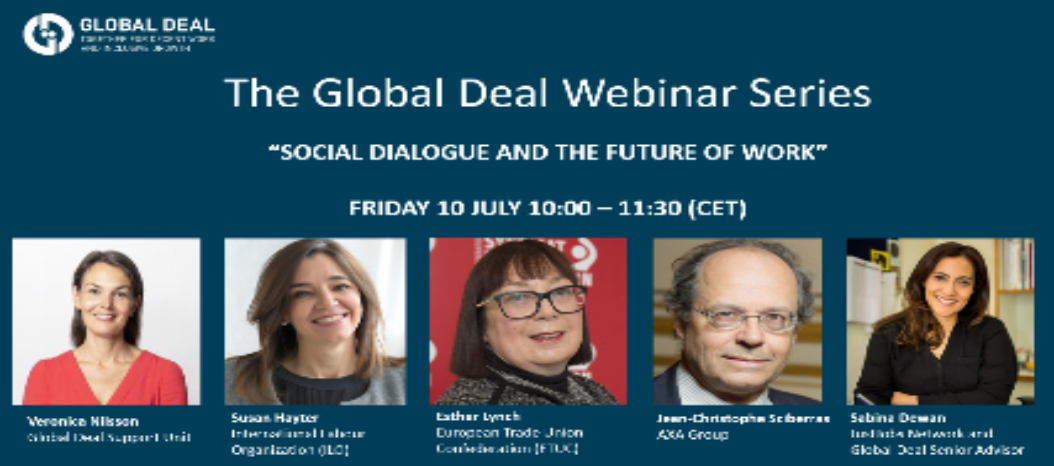 1 July 2020 - The world of work is experiencing transformative change, driven by technological innovations, demographic shifts, climate change and globalization. The Covid-19 pandemic has further accelerated this process. If not well managed, its far-reaching socio-economic consequences have the potential to widen existing inequalities and injustices.
As highlighted by a recently published Global Deal thematic brief, the future of work presents a number of opportunities and challenges that require common solutions designed by representatives of governments, employers and workers through social dialogue. The thematic brief summarizes the transformations underway and their possible effects on people, work and labour markets. It also highlights how to strengthen the institutions of social dialogue and collective representation to enhance the legitimacy of the policy-making process, build trust and deliver inclusive outcomes.
The Global Deal is pleased to invite you to a webinar entitled "Social Dialogue and the Future of Work", which will take place on Friday, 10 July from 10:00 to 11:30 (CET). Global Deal partners and experts will present and discuss good practices from around the world that show that social dialogue provides a key tool to manage the future of work transitions, improve the quality of work, and contribute to achieving full and productive employment and decent work for all.
The webinar will take place via Zoom and advance registration is required via this link. After registering, you will receive a confirmation email containing information about joining the meeting. If you do not receive this email, please contact GlobalDeal@oecd.org.
AGENDA

10:10-10:25

Introduction

Veronica Nilsson, Head of Global Deal Support Unit

10:10-10:25

Presentation of the thematic brief on social dialogue and the future of work

Susan Hayter, Senior Technical Adviser on the Future of Work, International Labour Organization (ILO)

10:25-10:35

The role of social dialogue in managing the introduction of new technologies

Esther Lynch, Deputy General Secretary of the European Trade Union Confederation (ETUC)

10:35-10:45

Negotiating and implementing the "right to disconnect" in France

Jean-Christophe Sciberras, Head of AXA Group Employee Relations


10:45-11:00

Discussant

Sabina Dewan, President & Executive Director of JustJobs Network and Global Deal Senior Advisor

11:00-11:30

Discussion and concluding remarks